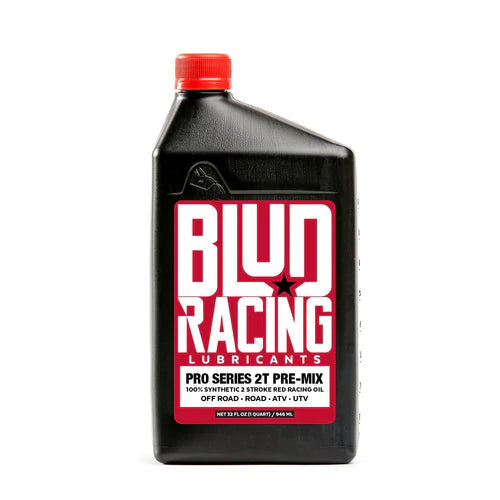 Pro Series 2 Stroke Racing Pre-Mix
Original price
$18.59
-
Original price
$18.59
Designed for professional racers to protect their engine while getting maximum performance. Pre-mix provides low friction, keeps engine and valves clean, and prevents piston rings and exhaust valves from sticking.

There are two uses for Blud Racing 2-Stroke Racing Pre-Mix:

(1) Traditional Pre-Mix: Mix Blud Racing 2-Stroke Racing Pre-Mix with gasoline before filling up bike. Must mix at OEM-specified ratio (consult website or owner's manual for more information on specific brands)

(2) Transfer Port Injection (TPI) Bikes: Designed with the future in mind, Blud Racing 2-Stroke Racing Pre-Mix can be used in the 2-stroke oil tank of TPI bikes (consult your owner's manual for information on where to put the 2-stroke oil)

WARNING: DO NOT PUT BLUD RACING 2-STROKE PRE-MIX IN THE TRANSMISSION RESERVOIR. YOU MUST USE ONE OF THE BLUD RACING PRO SERIES 4T OILS IN SECTION 2 BELOW FOR THE TRANSMISSION. PLEASE CONSULT YOUR OWNER'S MANUAL FOR THE DIFFERENT LOCATIONS OF THE 2-STROKE OIL TANK FOR TPI BIKES VERSUS THE TRANSMISSION RESERVOIR.
100% Synthetic 2 Stroke Red Racing Oil
For All 2-Stroke Gasoline Engines
Designed for High Performance Racing

Safe for Use at Any OEM Recommended Ratio

Outstanding Wear Protection

Keeps Piston Rings Clean

Improves Throttle Response

Pre-Mix or Oil Injection

Exceeds OEM Warranty Requirements