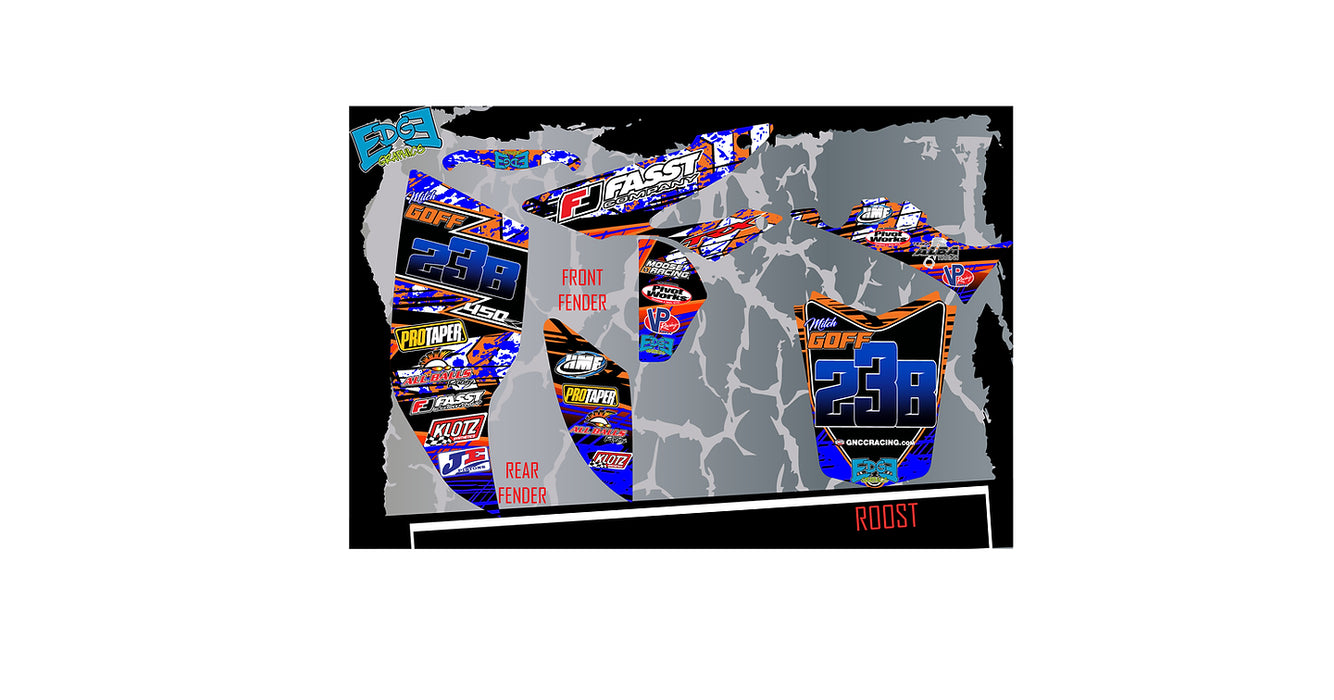 GRAPHICS KIT- ROOST - SXS
Original price
$109.95
-
Original price
$499.95
 ATV/Bike Standard kit- Standard Coverage on machine. (Tank, Radiator Shrouds, Top of Rear and Front Fenders) Includes Number and Mini Number Plates
ATV National Kit (call for availability on machines) Full Upper Wrap with Rear Number Plate. Certain models can include more coverage in the National Kit, depending on availability of template coverage. Includes Number and Mini Number Plates.
​Drop Plate Graphic are sold separately unless otherwise specified with the package
ATV Pro Kit - Includes the National Kit, Under Rear Fenders and  Rear Plate Graphic 
Bike Pro Kit- Includes Under front fender decal, Upper Fork Graphics, Bar Pad Graphic, Hand Guard Graphics, Rim Graphics
 You may also place your order by visiting  ORDERING | graphicsbyedge (precisiondecalcompany.com)
PLEASE PUT THE FOLLOWING INFO IN THE NOTES AT CHECKOUT OR EMAIL US AT INFO@PRECISIONDECALCOMPANY.COM WITH THE FOLLOWING INFORMATION AFTER ORDERING:
NAME:Graphic
PHONE:
HOW YOU WOULD LIKE TO RECIEVE YOUR PROOF:
MAIN BACKGROUND DESIGN COLOR: *Fluorescent Colors Are Available in the Printing Process and are an up charge depending on how mch florescent is on the print. IF YOU ARE WANTING THE SAME AS SHOWN IN DESIGN EXAMPLE, PLEASE JUST TYPE IN "SAME AS EXAMPLE":  
SECONDARY DESIGN COLOR: *
 LOGO COLORS: * 
Do you want your Logos in Full Color (normal style) or Single color to match the graphics (Mono) and if so, any special requests?
RIDER NAME: *As wanted to appear on number plates
RIDER NUMBER: *
NUMBER PLATE BACKGROUND COLOR: *If left blank, color will be left up to the designer
MACHINE-YEAR MAKE AND MODEL(ANY AFTERMARKET PLASTICS INCLUDING HOOD AND/OR TANK)
KICKER CUT OUT TRX450 ONLY
Acerbis Not Available for Graphics. Please Specify - Example - Cycra Pro Bend; Powermadd Sentinal. If you are unsure, please send pics
If you choose Mud plugs or package that includes Mud Plugs, Please include what Brand/Size of Mud Plug
If Bar Pad was chosen, please Specify Make or Bar Pad
If you chose Drop Plate, Please Specify Brand/size of drop plate and Front, Rear or Both. Drop Plate Graphics are only included in certain packages or purchased separately
If Chosen, Please Specify Make of Shocks. Stock Shock Piggyback Reservoirs are available
SPONSOR LIST:
MAIN LOGOS *Please Specify which Logo(s) you would like as your Main (Tank, along Hood, Etc.)
PLEASE UPLOAD FILE/LOGO IF YOU HAVE AVAILABILITY FOR YOUR TEAM LOGOS, EC. IF YOU HAVE MULIPLE FILES, PLEASE EMAIL THEM TO INFO@PRECISIONDECALCOMPANY.COM
Add Up to 15 Sponsors. Remember your Main sponsor and 5 additional are included, anything after that will be additional charge as per above. If they are Not Large Companies, There Is No Guarantee The Logo Is Available
Additional
Example, Your Team's Racing Name, Specific Logo Placement, Colors, Logos, Ect
PLEASE REMEMBER TO ADD ANY ADD ONS TO YOUR CART FROM THE ACCESSORIES SECTION. 
EXAMPLES INCLUDE BUT ARE NOT LIMITED TO:
BAR PAD GRAPHICS 
BIKE RIM GRAPHICS 
HAND GUARD GRAPHICS 
DROP PLATE GRAPHICS
ATV- MUD PLUGS 
ATV- SHOCK GRAPHICS
ATV- UNDER REAR FENDERS
BIKE- UNDER FRONT FENDERS 
BIKE UPPER FORK GRAPHICS 
EXTRA MINI NUMBER PLATES 
 Here at Precision Decal Company, we strive to expedite your graphic kits as much as possible.  On an average, any reorders will be printed and shipped within 3 business days.  New graphic kits ordered off this site will be shipped within 3 business days of final approval.  We will work diligently to get you a proof with in 5 business days of your new order. Once order is placed and deposit is received there is a 3-4 week turn around for final work. In the event you want custom graphics that is not part of our catalog, we will turn your proof around within 10 business days and print within 3 days of final approval.  
Please keep in mind that during the busy peak season (November - July), lead times will very.
 All concept drawings require a $ 50.00 deposit.  Any custom concepts require $ 100.00 deposit.  These deposits are non-refundable. 
If you are wanting to order a set of Custom-Made Graphics for your machine, all you have to do is fill out the order form above and email, or call us to place your order at: 717-319-6143
Monday - Friday from 10am-5pm
or email us at: info@precisiondecalcompany.com
***All Custom Graphic Kits must be fully paid for before printing. ***